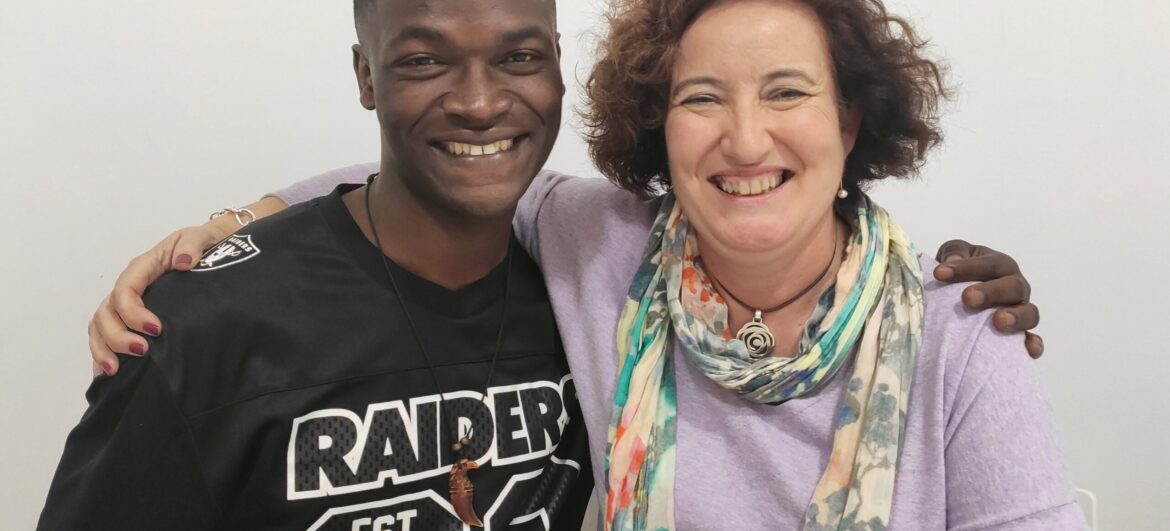 Mentoring stories: meet Issiaga and Leticia
Issiaga and Leticia laughingly explain that they would have never met in their lives. That it was totally impossible for their paths to cross. This is the magic of the Referents project. That two people who would never coincide naturally end up establishing a bond of trust, a unique relationship that simmers, with time and dedication. They are one of the pairs of the Referents project.
In just 5 months, since they met, Issiaga has visited more museums than any youngster his age, and probably many of us. "We have gone to the Music Museum, the Picasso Museum, the Design Museum and the Ethnological and World Cultures (MUEC). Oh! and to the Torre Balldovina Museum in Santa Coloma de Gramenet. Leticia is a great museum seeker", he explains laughing. "She proposes the visits, and we decide together."
They have also walked. A lot. Kilometres and kilometres through Barcelona and the river park of Santa Coloma de Gramenet. Time to share. "Walking you get to know people rather well and we take the opportunity to talk," says Leticia. "At first, I thought: we'll see how it works… But now everything is easy. We have told one another many experiences, good and bad. And we have connected".
The transformative energy of social mentoring
Leticia comments that, after the outbreak of the Ukrainian War, she thought about volunteering. The odds were that she would end up accompanying refugees from that country. But searching the Internet, she found Punt de Referència's website and it seemed an interesting proposal. "I must admit – she argues – that I had never heard of social mentoring. But, since I have young kids, I have accompanied them in the transition from adolescence to youth, and you realize the role you can play". She asked people from the sector if Punt de Referència was a serious organisation: "And they all gave me very good references," she explains. And it really is so because you are great professionals. You do a great job, and in a very professional way".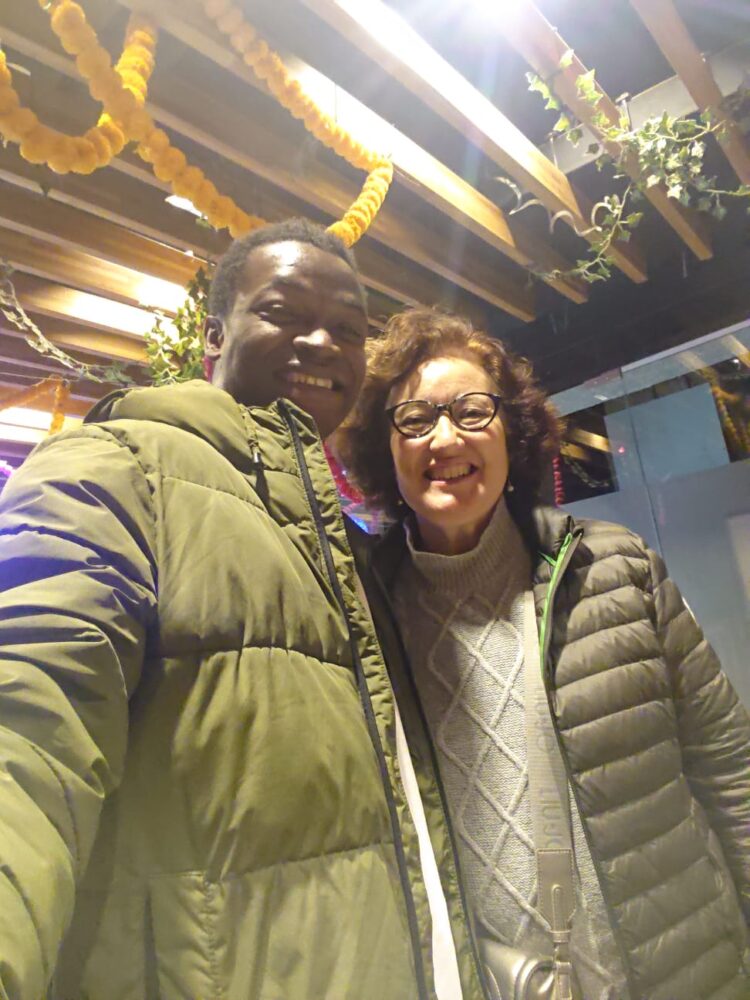 The power of smile

Together they relive the day they met. "I went to Punt de Referència's office, because Marina, the educator of Referents project, called and asked me to come and meet my mentor", recalls Issiaga. "They left us alone in a room. The way I communicate with people is important to me and I always believe that with a smile I do rather well. I met her and I thought she was a good person and that I could continue with her. It is also true that many thoughts came to my mind: what will I do with her? For her part, Leticia, became "excited, but also with the uncertainty of how everything would go. I don't know what I can contribute, I thought. If I will know what to do… I called Marina to explain it to her".
The figure of Marina Montoya is the third piece of this affective puzzle, the third vertex of the triangle that allows social mentoring to work. A triangle drawn between the mentor person, the youngster, and the person from the educational team. Marina acts as a hinge between Issiaga's concerns and needs and Leticia's. "The relationship established between the two is proof that the bond, trust, and the fact of recognizing the other has much power to transform realities. Affection, recognition, and trust are forceful tools for empowerment in the path towards the emancipation of all boys and girls", explains Marina.
After more than 150 days supporting Issiaga, Leticia 100% recommends living the experience: "It's worth it. It is rewarding and, at the same time, it enriches you as a person. You learn to look with different eyes and understand the migratory processes, getting closer to other realities. And I must also admit that emotionally it is very intense. Much more than I ever thought."
A life of improvement
According to data from the General Directorate for Child and Adolescent Care, in Catalonia there are more than 7,700 children and young people in care. The dream of turning 18 and being of legal age means, for them, not being able to receive that support anymore and facing emancipation suddenly and, often, without having family close by, particularly, for young migrants like Issiaga.
He had a weak social network and no knowledge of the environment when he arrived here two years ago at the age of 17 from his home country, French Guinea. The life paths and origins of young people who migrate alone are diverse and complex. Issiaga's is a story of self-improvement that is triggered by the death of his mother. "Before I studied, but now I am working. When I can, my goal is to obtain a Higher-Grade Cycle. Leticia encourages me to continue working and studying", he says without losing his eternal smile.
"Issiaga's life has been very complicated if I compare it with that of my children," Leticia reflects, "who have plenty amenities, and everything is easier for them. That has made me think that, sometimes, we do not value what we have. Fortunately, I see that, faced with a difficult situation, Issiaga knows how to get ahead. He's brave, if he wasn't, he wouldn't be here. He is a strong person, eager to learn and with clear priorities, because he asks me questions, but he is always clear about the priorities".
Issiaga listens attentively without losing his smile. "I have started to change, and I will continue to do so. I want to live here because this is where I will study". He is very clear about it: "I will only leave the country to do tourism and see new places like the day I walked through the River Park with Leticia and saw the limits of Barcelona, ​​the sea, and the green color of the forest. I loved it!".