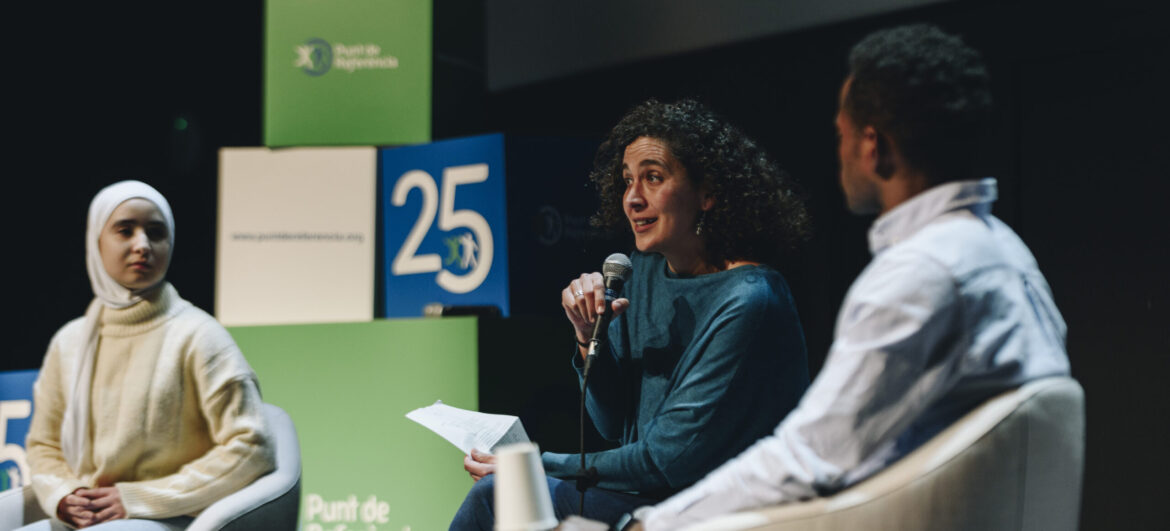 14 ideas that invite you to reflect on the concepte of welcome
In a society full of emergencies, organizing an event about what it means to take in has a tinge of rebelliousness. But you already know that in Punt de Referència we like to challenge society and challenge ourselves. Not from the delusion that everything is going well but believing that we are capable of rethinking and imagining a new perspective and, above all, diagnosing what needs to be claimed so that we can welcome more and better the young people we accompany.
Have you ever asked yourself?
And you, what do you think about taking in? Are you clear about it? Do you think there is a better way to welcome people who come to our country fleeing poverty, wars, and lack of opportunities? Do you think we are behaving well as a society? Do you dodge the subject depending on the person you're talking to? What goes through your mind when a migrant sits next to you on public transport? Would you take in a young migrant in your home for nine months?
Based on these questions, and knowing that many more could arise, we share with you 14 thoughts heard last February 9 at the event 'Do we want to welcome?', which, as you know, we organized at the CCCB as the closing ceremony of the 25th years celebration of Punt de Referència.
1.
"Welcoming is not helping, it is holding hands to walk together, which means, individually, learning from each other and, socially, it has to do with changing together without leaving anyone behind". Blanca Garcés (PhD Political Science)
2.
"The system condemns us for being aliens. Coming from the south means we are condemned to not be able to work for 3 years. People cannot be condemned. We have the right to move". Abdoulaye Seck (Spokesperson of 'blanket vendors' Union)
3.
"It doesn't matter if after arriving from Afghanistan I want to wear a veil, a cap or leave my hair exposed. My Catalan mother simply accompanied me without judging or coercing. She let me choose. My personal growth has come from within myself, but I had a family by my side that helped me in my decisions. They have accompanied me until I have become a Catalan as I should be". Nadia Ghulam (Writer and Afghan refugee)
4.
"There are other welcoming mechanisms that can be called "informal". Schools and academies, primary care centres, churches and, above all, shops run by migrants, which often become places of refuge for those people who have just arrived in Catalonia. There are many neighbours who are welcoming in very complicated environments". Montse Santolino (Journalist)
5.
"Community spaces, such as playgrounds or social and sports organizations, entities that organize popular parties are very important for building a future together as a society and it is from these spaces that we can begin to break stigmatization". Maria Bouabdellah Shaimi (YouTuber and presenter of SomSX3)
6.
"We have naturalized criminalization, which is done prior to arrival, and we have assumed it because we have assumed the war narrative that makes the population normalize the deaths at the borders and the persecution of those people who try to defend their human rights".  Sònia Ros (Spokesperson of STOP Mare Mortum)
7.
"On the borders of Europe, necro politics has settled in; they are death policies that attack people in motion because the suffering and death of these victims generate benefits for the war and migration control companies". Helena Maleno (Director of the group Caminando Fronteras)
8.
"For me welcoming with the heart is the most important thing". Victòria Molins (Activist for Human Rights)
9.
"Not even in the Sahara Desert did I feel as lonely as in the city of Barcelona. No one looks you in the face. I was a problem for the citizens and an even bigger problem for the system". Ousman Umar (Writer and founder of NASCO Feeding Minds)
10.
"European societies should accept that they are part of the problem and should fight social inequality instead of poverty, to seek justice instead of generosity".  Francesc Mateu (Activist for Human Rights)
11.
"We often ask about the wound, but behind these migrants there are stories of love and bonds with families. And this is the human factor that we need to explain from the media. What moves them to migrate is the deep love for their family and the wish to improve the lives of their kin". Xavier Aldekoa (Journalist)
12.
"I didn't think it was moral or ethical to have such a big house just for myself. You don't need that much space to live". Josep Riera (Testimony from a person that welcomes migrants in his home)
13.
"We are a welcoming family for young people coming out of care. We hosted because we had space in our hearts and at home". Cris Ruano (Welcoming family for young migrants)
14.
"In 1997, a girl coming out of care appeared in the media declaring that she felt alone. With her basic needs covered, the source of her discomfort and a large part of her problems was loneliness. So, 25 years ago, in response to this young woman's call, the association Punt de Referència was born. Since then, hundreds of volunteers have welcomed and accompanied hundreds of young people coming out of care, offering them the most basic: their company". Mònica Arús (President of Punt de Referència)
The answer is not here
Without losing sight of the fact that it is necessary to report situations to the relevant institutions and, at the same time, it is necessary to maintain and strengthen the support through the bonds between people – the real DNA of Punt of Referència -, the closing of the debate stressed that the answer will not come from Europe, but "from the global north, from the south, from the migrant communities that fight for their rights" (Helena Maleno). A reflection shared by Ousman Umar who emphasized that "the true solution is there. It's a matter of democratizing opportunities."
The heart of the matter, however, was exposed by Blanca Garcés when she claimed that the first thing that should be done is to recognize that "migration is not an exception" and that it is the job of the European States to "give rights from day one". While this does not happen, it seems clear that, "there are many of us who believe that a welcoming society is a better society", stated Mònica Arús, president of Punt of Referència. The over 300 people who accompanied us at the CCCB are the most reliable proof of this.
We leave you the videosummary of the event, whether you could not come or want to relive it!